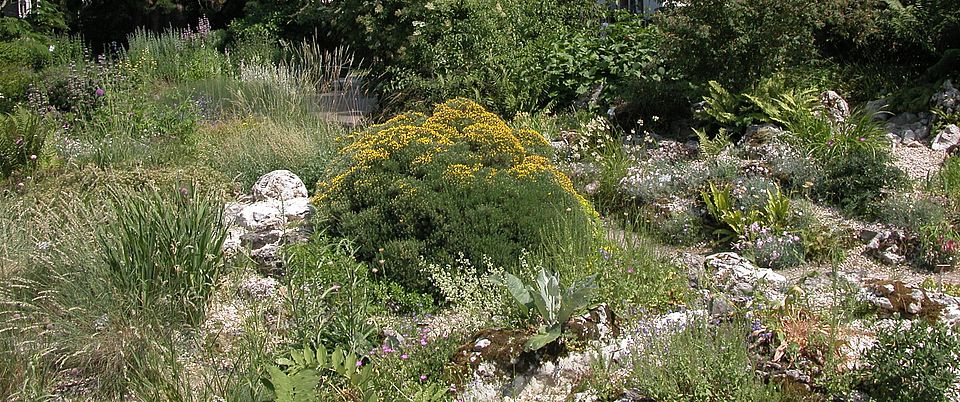 Restoration of the Alpinum 2019-2021
Background
The mountains of the world are one of the most species-rich habitats on earth. Due to its proximity to the European Alps, the University of Basel has a long tradition in the study of alpine plants. In the past decades, it was therefore an important task of the Botanical Garden to show and present the genetic, ecological and aesthetic diversity of the mountain flora to students and the interested public in a specially created alpine garden.

The 120-year-old Alpinum in the middle of the Botanical Garden had changed a lot in the last decades. The deteriorated soil conditions made the cultivation of alpine plants considerably more difficult and promote a strong weed growth. In this state, the historic Alpinum was no longer suitable to show the genetic, ecological and aesthetic diversity of the mountain flora. In order to be able to do justice to this task again, the Botanical Garden has started in 2020 to completely renovate the historic Alpinum.
Redesign
The following measures were defined to successfully implement the total renovation of the Alpinum:
Evacuation of the remaining plants, which fit into the future planting concept.
Careful removal and excavation of the original limestone Jura rocks.
Removal of the unsuitable soil.
Adding to and remodelling of a new substructure with coarse limestone flakes.
Creation of a new "mountain landscape" with the cleaned Jura rocks.
Adding substrate, new soil and creating new adequate planting pockets.
Replanting with existing plants and plants acquired from other botanical gardens.
We look forward to presenting a new Alpinum to the public in the summer of 2021.